Alice in Wonderland Glass Sculpture Benefit Westlake Students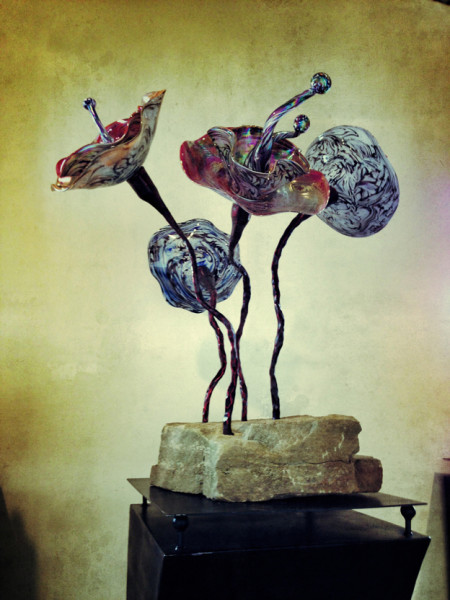 Westlake Students Help Create Handblown Sculpture for School Fundraiser
Our team here at Vetro Glassblowing Studio was excited to be a part of the Westlake Public Art Society and Collaborate With Westlake Academy Foundation For their Annual Gallery Night Fundraiser.  We invited the 6th grade class to come out to the Glassblowing Studio and be a part of creating a Magical Glass Flower composition.  Each of the students helped apply the glass color and melt the colors in the 2,400 degree furnaces.  Will Frary, the Grapevine Blacksmith forged these awesome steel stems which we embeded into a large stone base.  I am sure Tim Burton would approve!  Click here to see the students at work.
"Wonderland" is the theme of Westlake Academy's tenth annual Gallery Night fundraiser that will be held Saturday, March 2, 2012 at the Marriott-Solana beginning at 6:00 PM. Organized by the Westlake Academy Foundation, this art-themed event includes student art pieces by grade level as well as numerous professional art works. Local artists, including Gregory Arth, Rick Bettinger, Trish Biddle, Pamela Blaies, Pat Bodnyk, Will Frary, David Gappa, Brad Jensen, Marie Maines, Jane Metz, Richard Nunez, Kristen Penrod, Tony Saladino, Pam Stern, Jean Storm and Arlene Taylor, have volunteered to work with students in creating stunning art pieces in the artists' choice of medium.  With this partnership, Westlake Public Art Society is underwriting the cost of materials and providing a stipend to the artist in return for his/her time commitment.
February 4, 2013 (Westlake, Texas) For the tenth annual Gallery benefit, the Westlake Public Art Society (www.WestlakeArts.com) will collaborate with Westlake Academy Foundation (www.WestlakeAcademyFoundation.org)  to provide an artists-in-residence program.   Local artists will volunteer to work with students to produce art pieces for the auction benefiting the Westlake Academy Foundation.
"Following on the heels of last years' success, we are expanding the program to include 16 artists and many different mediums including oil, pastels, glass blowing, multimedia, blacksmithing, photography, sculpture and jewelry making.  It's a perfect partnership between Westlake Public Arts Society and Westlake Academy. When many public schools are facing cuts to arts program, we are proud that Westlake Academy is actually expanding art offerings through programs like this," says Westlake Academy Foundation president Kelly Cox.
Other auction items typically include: national and international trips, stunning professional art, sports memorabilia, private chef dinners, donations from many local businesses and quite a few wild surprises!  In addition to a live and silent auction, attendees will enjoy gourmet food stations, fantastical "Wonderland" décor, and live entertainment.  Friends, parents and corporate sponsors will mingle in a festive atmosphere of people dedicated to the education and enrichment of Westlake Academy students. Proceeds from Gallery Night enable the Foundation to fund grant requests from Westlake Academy for classroom equipment, campus and gym needs, specialized International Baccalaureate curriculum, technology upgrades and more.
About Westlake Academy
Westlake Academy is a public charter school offering the rigorous International Baccalaureate (IB) curriculum. Founded in 2003, with a mission to achieve academic excellence and to develop life-long learners who become well-balanced, responsible global citizens, Westlake is the first and only municipality in the state to receive a charter designation. The Westlake Academy Foundation provides financial support for Westlake Academy in its efforts to achieve academic excellence.   Westlake Academy is located at 2600 JT Ottinger Rd., Westlake, TX 76262. Call 817-490-5757, visit www.westlakeacademy.org   or email smyers@westlakeacademy.org   for more information.