Indulge Magazine Features Vetro – Tradition With a Twist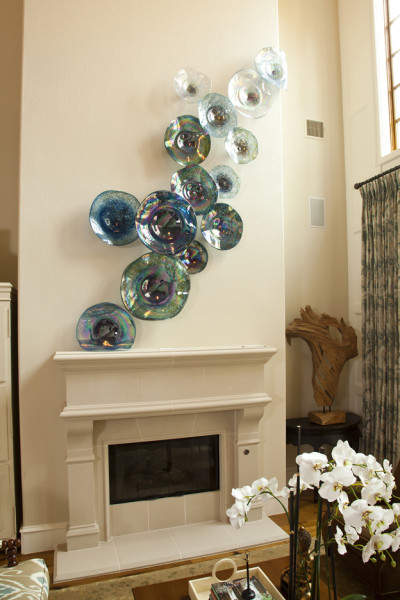 By Mary Rogers Photos by Ron T. Ennis
The house, substantial and impressive, sits in a trendy enclave of Southlake that not so long ago was tree-dotted meadow land. It's surrounded by equally remarkable homes.
It is a big house, boasting five bedrooms, eight baths, five fireplaces, a gourmet kitchen inside and another outside, adjacent to the pool and pergola. There are two laundries — a small one upstairs and a big one downstairs — a game room, a media room, a "teen lounge," an exercise room, a wine room and two studies (one for him, one for her), as well as a "study area" in each of the three upstairs bedrooms. There's also a "tornado room" outfitted with generators, a steel door and beefed up walls to secure the family against any big wind.
But behind the custom-carved, basket-weave double front doors of this 9,800-square-foot residence, interior designer Tiffany McKinzie, working closely with the homeowners, has created a safe haven that feels unexpectedly cozy and surprisingly comfortable without the burden of opulence.
Building the dream
A project this big takes lots of planning. In 2009, the homeowners, who asked not to be identified for this story, began working with Southlake architect Robert Leeper, but before the plans were finalized, they brought in McKinzie, who specializes in new construction and project management.
"I didn't know what I wanted," says the lady of the house. "My style had changed….I knew I wanted something more transitional — lighter, airier. My husband was traditional….I wanted something a little more contemporary, but that would work in Texas."
She also wanted a home that would become the hub of her three sons' lives, a place where their friends would want to "hang out."
The house, built by longtime home builder Glenn Bruton, was ready in August 2011. By then, McKinzie knew them all very well. "We'd met at least once a week for months," says McKinzie. The family unpacked its clothes, then took a trip.
The designer shifted into high gear and for days she arranged every aspect of the move. The family returned from the trip and camped out at a hotel while McKinzie put the finishing touches on the place.
The homeowner brought food each day. "She had to leave it curbside," says McKinzie, who wouldn't allow anyone to see the house until every vase, every rug, every photo, book, dish and towel was in place. The result is a gracious home that more than pleases the homeowners, from the front door to the back fence.
Welcome home
Random-width planks of white oak, beveled and burnished, stretch from the front door through much of the house. "We were going after that reclaimed look," explains McKinzie, who has been named one of Dallas' top designers by D magazine for the second year running. (Watch for her in the magazine's April issue.)
A spacious dining room is just to the right of the front door, but the entryway extends without interruption through the house into a small seating area anchored by a fireplace that is crowned by an impressive glass sculpture. Local artist David Gappa created the iridescent rondelles for this space. The free-form, platter-size wheels of glass climb the wall, bending around the corners of the chimney and the mantel, catching the light from tall windows at the end of the room.
What in another house might be considered a formal living room feels more intimate here, the space more approachable and inviting, with seating for only about four people.
Family matters
The family room is, of course, the center of the house. It is a mammoth space that is spanned by a beautiful series of knotty alder wood cathedral beams. A long, rustic dining table surrounded by contemporary web-backed office chairs occupies a large dining bay that features a wall of split-faced tile.
"It works," declares the homeowner of this marriage of contemporary and traditional styles. Better yet, the executive chairs can be adjusted for height, making even the smallest guests comfortable — and who doesn't love a chair that rolls?
The gourmet kitchen with thick butcher blocks flanking a farmhouse sink stretches across the end of the family room and overlooks a tiny garden. It is outfitted with Miele appliances, including a "steam oven."
"We went to a Miele show and then decided this is what we wanted, so we had to re-configure the kitchen to accommodate everything," says McKinzie.
Functionality was central to this space, but McKinzie stirred in liberal amounts of design panache, too, including a range hood custom painted by a local artist to mimic patent crocodile skin and a Juliet balcony in the upstairs hallway overlooking the kitchen with its alder wood plank ceiling.
The family space is separated from the kitchen by a long counter of honed white marble. "This is the heart of the house," says the homeowner as she rubs a hand over the silky surface. "Everything happens here: breakfast, dinner and homework." Other countertops in the kitchen are of Caesarstone, a man-made product that is almost indestructible, McKinzie says.
Master's retreat
Although these homeowners cherish time with their boys and their boys' friends, they also wanted a beautiful space for themselves. The master suite is a serene retreat with large bay windows that overlook the pool.
"This room is a little slice of heaven," says the homeowner. Motorized silk shades close out the world with the flick of a button. Custom-made in Japan, these shades have silver threads of aluminum woven throughout that sparkle in the light. Black-out shades can also be dropped for complete privacy.
The master bath, with its steam shower, feels like a spa. The makeup vanity was moved to the mom's closet. All the bottles of potions and lotions, the bling — and the mess — are out of sight. The addition makes the closet feel more like a dressing room than a clothing vault. "This is perfect," she says. "I love every room in this house, but I think I love my closet best of all."
She strolls back to the spacious entryway and then into the kitchen. Light streams through tall windows. Music plays softly in the background. "I got a good house because I got a good builder and a good designer," she says. She smiles. "No, I got more than a good house. I got a friend for life."
Read more here: http://www.star-telegram.com/2012/02/01/3703908/a-grand-southlake-home-is-designed.html#storylink=cpy