Gappa Creates Art Glass For Barbara Bush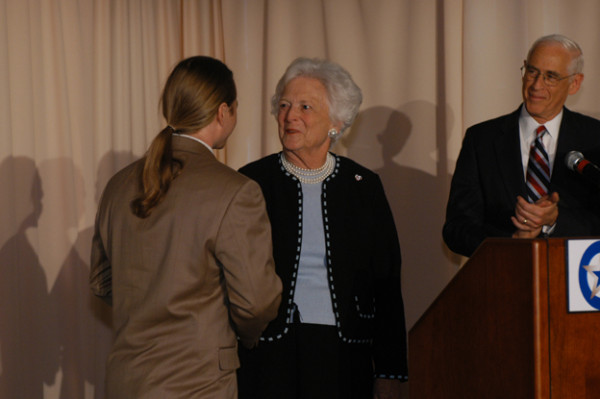 Local artist David Gappa of Vetro Glassblowing Studio & Gallery in Grapevine TX created a signature art glass piece that was presented to former first lady Barbara Bush last Tuesday, April 12. They were invited by The Center for Cancer and Blood Disorders in Fort Worth TX to award the piece to Mrs. Bush as a "thank you" for her relentless support in cancer research as well as her participation as the guest speaker in the private, grand opening banquet celebration of The Center which opened in February 2005.
Upon receiving the art piece, Mrs. Bush immediately expressed her gratitude and requested to personally meet the artists. "It was an incredible honor to be the ones selected for this opportunity. And then to be asked to go on stage to shake her hand and meet her was remarkable," said artist and co-owner David Gappa. The artists created a large, contemporary-style vase with a red and black raked design, encircled by two large bands of clear glass. They felt that the strong impression of the colors, yet down-to-earth tone of the style fit well with Mrs. Bush's personality.
They created the piece at Vetro, their studio in Grapevine, just a few weeks prior to the event. "We take great strides and set high standards for the quality and unique style of our art glass pieces and installations," says artist David Gappa. "Art should first be stunningly beautiful. Everything else is secondary. We used that same high standard for the piece for Mrs. Bush, and we're flattered that she was so impressed." In January, Texas Cancer Care (TCC), the organization responsible for the new Center, along with Quorum Architects, Inc., the firm responsible for the interior design of the facility, commissioned Gappa & Hayes to create an art glass installation to be the focal point of their Meditation Room.
Barry Russo, executive director of TCC, sought for a design that would incorporate the facility's mission: "To truly be a place where cancer patients can receive treatment for body and soul – the whole person…a place of learning, and one of hope and healing." Composed of an intricately designed matrix of approximately 50 cast glass panels with a blown and cast rondel as its centerpoint, this installation, appropriately named "Hope and Healing", achieves that mission. "For us, this is a composition in color and texture meant to instill a sense of profound peace within the viewer," says Gappa.
The artists' facility, Vetro Glassblowing Studio and Gallery is the first studio of its kind in the DFW area to showcase works of art created in its own facility as well as pieces made by internationally acclaimed artists. Vetro, having quickly become a major tourist attraction, is also the only glassblowing studio and gallery in the Metroplex that routinely encourages the public to join them in the studio to witness the magic of this ancient art form. Visit www.VetroArtGlass.com or call 817.251.1668 to learn more about the 'hottest' place in the Metroplex.