North Texas Catholic interviews David Gappa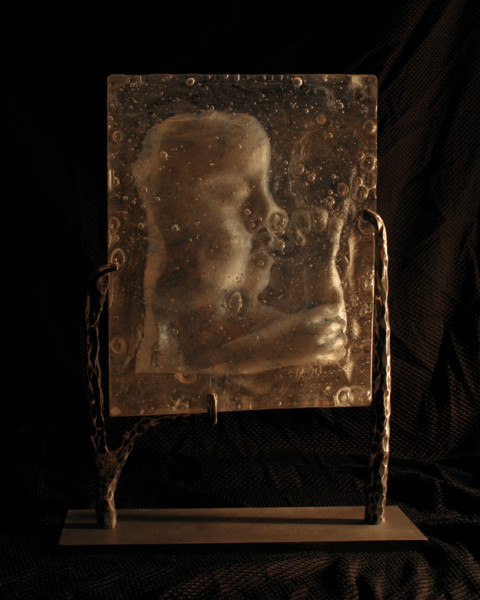 Like the glass he molds, award-winning glassblowing artist David Gappa forges his talents to give them back to God.
When David Gappa took a glassblowing class at the University of Texas at Arlington 16 years ago, he didn't imagine it would someday become his career. He was, after all, studying for his master's in architecture.
"I was able to take two semesters of glassblowing" at UTA, Gappa explained. The St. Elizabeth Ann Seton parishioner is now a master glassblower, but at first he said, "I just looked at it as pure enjoyment. It was something that allowed me to escape from the drafting table for a few hours every few weeks."  After getting his master's, Gappa went on to become an architect with Quorum Architects in Fort Worth for the next 10 years. But his passion for glassblowing didn't fizzle out. It continued burning steadily, and soon after joining Quorum, he got together with a group of other artisans to form a co-op studio in 1999 in Grapevine known as Vetro, Italian for glass.
Now, Gappa is the owner of that studio and gallery (which last year was named the best art gallery in DFW by WFAA-TV). He's become a nationally renowned glassblowing artist, his art has won awards by the dozens and been displayed in numerous art galleries including the Arlington Museum of Art, and the Fort Worth Community Arts Center, among others. He has done commissioned works for the Center for Cancer and Blood Disorders in Fort Worth, the Dallas Museum of Art, the Center for Brain Health in Dallas, the Harris Methodist Dream Home, and various churches around the diocese, including St. Catherine of Siena Parish in Carrollton and Good Shepherd Parish in Colleyville. All the while, he's continued to combine his Catholic faith with his passion for art in the service of others.
In fact, Gappa says the two are inextricably tied together, and it's what makes his art unique. Several of his major art pieces are based on Scripture. "Bestowment," an intricate sculptural piece depicting three red glass figures gracefully floating in front of an ethereal collection of turquoise and gold colored plates, is based on the journey of the three Wise Men to see the Christ child. "Seed of Faith," another sculptural piece, is based on the parable of the Sower. The piece shows two masterfully crafted tree trunks, one whose roots are choked by thorns, and one whose roots are stuck in rocks. In the center of the piece stands a healthy and blossoming tree, planted in fertile soil, with a hand tending to its roots.
"I firmly believe, [for] me in particular, or any artist in general, [we] have been gifted with responsibility to create and to fulfill God's vision," Gappa explains. "Art first and foremost must be beautiful. There is an order and design to well thought-out art, and I think it's our role and our talent to make sure that [God's] vision is achieved."  Gappa's belief that he is the steward of his God-given gifts is readily apparent in the way he goes about creating his art and tending his studio, say his friends and fellow Catholics.
On a recent 100-degree Friday evening, Gappa made good use of his talent by sweating it out in his non-air-conditioned studio filled with gas furnaces blasting at over 2,000 degrees and annealing ovens simmering at lower but equally uncomfortable temperatures, as he carefully molded a piece of molten glass into a lighting ornament for a client, eventually calling it a day at 10 p.m.
One way Gappa expresses his gratitude for his God-given gifts, is by sharing them with the community. Recently, he volunteered to teach art classes for the children in St. Elizabeth's Home School organization this year.
Jeff Hedglen, youth and young adult minister at St. Bartholomew Parish in Southwest Fort Worth has known Gappa for 20 years. He was Gappa's youth minister as he took part in the parish youth group, confirmation classes, and on youth mission trips for six years.
"I think what most stood out to me about his faith life, is he is a person who has not wavered in his commitment to his faith," Hedglen said. "Even his art is an expression of his faith.  "When Gappa was a teen, Hedglen and the kids in his Confirmation group noticed Gappa's creativity and passion for art. On one retreat, Hedglen set up a table filled with random items and junk, and he had the Confirmation candidates make their prayer partner a gift using only those items. Gappa melted down a collection of crayons to make his prayer partner a one-of-a-kind candle.
"Everyone wanted to make sure David was their partner," Hedglen said with a laugh.
After becoming an architect, Gappa continued working extensively with glassblowing, even going to Italy, Austria, and Japan to work with glassblowing masters. While working at Quorum, he would be an architect by day and a glassblower by night and on Saturdays. But he was paying a price for his passion, Gappa admitted.  "The hours that [I was] working in Quorum and also at Vetro were really beginning to take a toll," Gappa said. As Vetro was beginning to become successful, the number of evening and weekend hours the work required became "extremely grueling," said Gappa, adding that he also had to balance spending time with his wife and three daughters. "My eldest daughter at some point asked my wife, 'Is Daddy going to come home this week?'"
Wanting to dedicate more time to his family and his art, Gappa resigned from his job at Quorum in 2008 and became a full-time glassblower, just as the economy was falling into a recession.  "It was an extreme leap of faith," Gappa said. "I'm very blessed that it worked out."  And now Gappa and his staff at Vetro are spreading those blessings. The past few weeks, Gappa has spent more than 35 hours making a unique pro-life related glass sculpture depicting a low relief of a profile of a child's head for the upcoming Bishop's Seventh Annual Catholic Pro-Life Banquet. He will donate the piece for inclusion in the silent auction; proceeds go directly to fund the pro-life ministries operating under the diocesan Catholics Respect Life Office.
In the early years of the banquet, he also made two glass art pieces he presented as a gift to the bishop.
"That's typical of … the kind of person he is," said Jim Tamulevicz, a St. Bartholomew parishioner who has known Gappa since he was a child, recalling that as a Boy Scout, Gappa's Eagle Scout project had taken the form of an artful revamping of the landscaping at St. Bartholomew's. "Definitely he's grown up very strong in his faith."
Although his gift to the banquet took nearly a full work week, plenty of manpower (glassblowers usually work in teams for large projects), and seven days of babysitting the work until it cured properly, Gappa says he's glad he could contribute to his Church and the pro-life movement.
"It's vitally important," he says of supporting the pro-life movement.
"I firmly believe that all of us have been given a palette, and it is our responsibility to multiply those talents…." Gappa said. "I'm just glad and honored to be a part of such a worthy cause." It's exciting, he said, to be able to "contribute in the best way that I feel I can."
Copyright © 2011 by North Texas Catholic
Related Stories:
George Weigel to deliver keynote for Bishop's Pro-Life Banquet Sept. 24
Story by
Juan Guajardo / Correspondent
North Texas Catholic
8/29/2011